Finding a Great Recreational Property in Alaska
Have you been considering finding a great remote property in Alaska to purchase as your snowmobile paradise? Most buyers are not familiar with the responsibility of ownership and options that they have. Over the next couple of months, I'll cover several things that you should consider before you obligate yourself to the purchase of a recreational property.
I like to use the analogy that hunting for a great property is not much different than hunting for game. You need a good rifle or bow (your financing). You need to know what you're hunting for (your criteria) and the best catches are generally found with a guide (your Realtor).
In this article, we will discuss your Financing options.
The biggest hurdle to financing remote property has to do with the location of the property. If there is road access, your best bet is to go with a local lender who understands Alaska. Most recreational property loans require a credit score of 640 or better, a 20-30% down payment, payments are amortized out over a 15 year period and carry an interest rate of 8-10%. Shop around. Don't go with the first lender you talk to and don't be afraid to share quotes with lenders and shop for better terms. Rates and terms change based on the performance of the Bond market on a daily basis. Shop around!
It's important to note that the bank loan will require an appraisal. The appraisal only considers the land and the improvements that are fixed. A well, a septic/holding tank, mounted heaters and additional structures can benefit the value. The appraiser will not give you value for snowmobiles, chainsaws, four-wheelers, furniture, fishing supplies or a mobile home. If there are a well and septic or holding tank, the state requires inspections be performed. Some title companies will not allow a purchase to record if there is a known septic system and no inspection or a recorded COSA (Certification of On-Site System Approval) on record. This has do to with EPA requirements to minimize the risk of health issues and water pollution.
If there is a mobile home on the property and you are using a vacant land loan, most lenders will require that the mobile home cannot be on blocks and must have the wheels and axles in place, otherwise it's considered a structure and can complicate financing.
If there is no road access, you will find that most lenders will not give you a recreational property loan. That means you'll have to pay cash or have the seller carry the note, which I will discuss below. Lenders state that it is due to not being in a "fire serviceable area", when in truth it's because it's hard to foreclose on a remote property should you default on the note.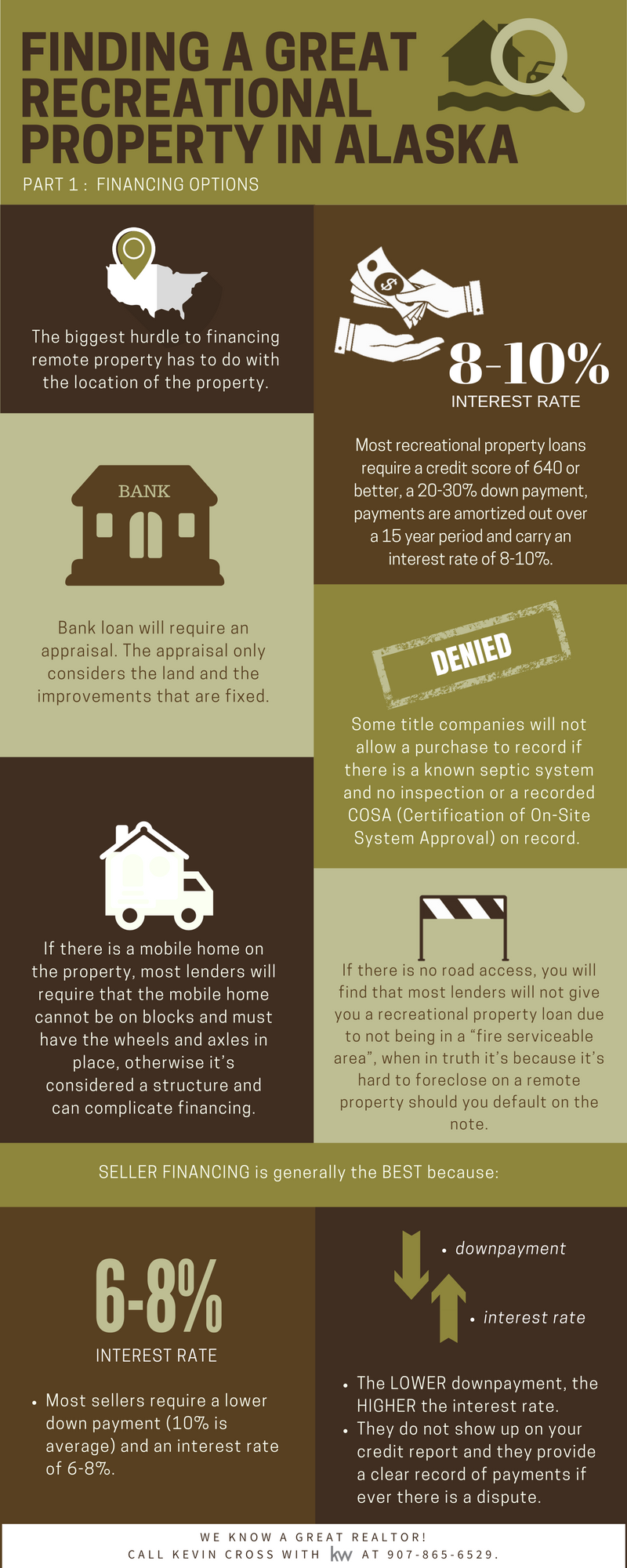 Seller financing is generally the best. Most sellers will require a lower down payment (10% is average) and an interest rate of 6-8%. However, since there is no bank involved, it can vary a lot. The lower the down payment the higher the interest rate. These payments are best set up through an escrow account at a local bank (usually First National Bank of Alaska) and are made and tracked just like a mortgage payment with a couple fantastic differences; they do not show up on your credit report and they provide a clear record of payments if ever there is a dispute.